Diablo Immortal Guide: Hell Difficulty And How to Change Difficulty in Diablo Immortal
Date: 2022-08-09 08:43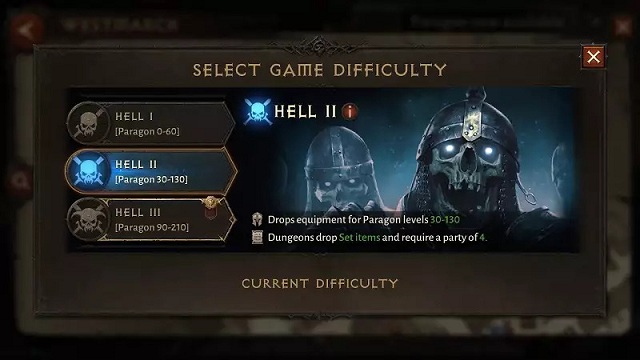 When players first play Diablo Immortal, they may begin on Normal Difficulty in the game. With the development of your characters in Diablo Immortal, you will have access to choose the different levels of difficulty in Hell. There will be fierce enmities and good rewards in the Hell Difficulty. So, if you want to know more about the difficulty of Diablo Immortal, you can read this article carefully. Players can use Diablo Immortal Platinum to purchase good gear for characters and make them complete more quests for rewards in the game. 
Why Need You Change the Difficulty in Diablo Immortal?
One of the biggest draws of this genre is the ability to earn powerful new armor sets, weapons, and skills. The main game, from start to finish, is usually just a taste of what's to come in the end game. The real fun doesn't start until you're grouping up with other players tackling your favorite boss on the Hell difficulties. That's when the game's most challenging encounters and most powerful rewards become available. You can't get the best legendaries and end-game sets without grinding (or paying an insane amount of money).
How to Change the Difficulty in Diablo Immortal
When you first start the game you'll begin on 'normal' difficulty, but eventually, you'll be given the opportunity to choose between four increased levels of difficulty in Hell. Before you can do anything though, a quick bit of housekeeping. Before players can change Hell difficulty in Diablo Immortal you will first need to finish the main story AND reach level 60.
As we've mentioned already, you will first need to complete the game's main story and reach level 60. Do note, that this can take some time, so you won't be able to manually change the difficulty right away. Of course there are ways you can farm XP and level up fast, but regardless you will need to level up before you can even consider changing the difficulty from the standard level it's set when you first start.
After you reach level 60 in Diablo Immortal you can change your difficulty by traveling to Westmarch. While in Westmarch, open your map and find the skull icon in the top-right. Click on the skull to view all available difficulty levels and their impact on the game. There are four post-game difficulty levels, titled simply Hell I, Hell II, Hell III, and Hell IV. Each difficulty covers a range of Paragon levels. The recommended levels are:
Hell 1: Paragon levels 1-60
Hell 2: Paragon levels 30-130
Hell 3: Paragon levels 90-210
Hell 4: Paragon levels 160-300
The Requirements of Hell Difficulty in Diablo Immortal
The Combat Rating of enemies increases as Hell levels increase in all game modes, including overworld areas, dungeons, and rifts. You may check your personal Combat Rating, an aggregation of numbers that affect total character power, on your inventory stat sheet to see how you compare. These are the Combat Ratings for each level of difficulty:
Hell 1 Difficulty Level
390 Monster Combat Rating
Hell 2 Difficulty Level
1190 Monster Combat Rating
Hell 3 Difficulty Level
2150 Monster Combat Rating
Hell 4 Difficulty Level
3270 Monster Combat Rating
When your own Combat Rating is high enough to handle these levels, you should increase your Hell difficulty. Higher Hell difficulties have better rewards, increasing the chance of Legendary Gear to drop globally and adding Set items to Dungeon drop pools but not Legendary Gems.
Higher difficulty gear drops may also contain higher-tier stat modifier rolls, boosting your Combat Rating and advancing you to the next Hell level. To get the most treasure, you should normally play at the highest level of Hell your character can manage.
When you have known the information of the different difficulties of Diablo Immortal, you need to level up your characters quickly in order to meet the requirements of them in the game. You can Buy Diablo Immortal Gold to upgrade your characters quickly and improve their basic stats at the same time.