WoW Classic WotLK Professions Guide: How to Pick Wrath of the Lich King Profession
Date: 2022-08-06 08:37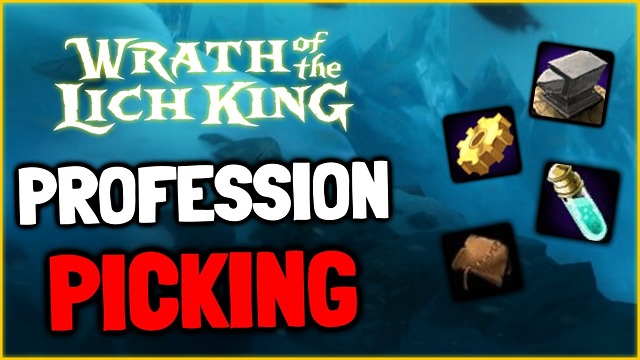 Players who are familiar with the World of Warcraft should know the importance of professions in the game. While for some novice players, they don't realize the characteristic of each profession in WoW. So, they need learn from guidance about how to choose the right profession in the beginning of the game. In the coming WoW Classic WotLK expansion, players want to know how to choose the suitable profession and start a good journey in WoW Classic. Players can use WotLK Classic Gold to purchase desired gear for enhancing capacities of characters in the game. 
The Professions in WoW Classic WotLK 
There are a total of 11 professions—not counting Cooking—in WotLK Classic. These range from crafting professions such as Blacksmithing, Jewelcrafting, Tailoring, and more to Herbalism, Mining, and Skinning.
Each profession has its own uniqueness and benefits and as always, some are more advantageous than others depending on the class, and for Wrath of the Lich King Classic, that'll be the same.
WotLK Best Profession: Engineering 
When it comes to Engineering, it is known as the best profession for players to choose in the game. The profession not only provides the best of both worlds compared to other professions in enchants and crafted armor, but it also gives players some especially crucial additions.
There are many good equipments for you to build your Engineering profession. For instance,  the portable bank and repair tool, Jeeves, the mail on the go, MOLL-E, enchants such Nitro Boosts, Slow Falls for cloaks, Mind Amplification Dish, and Hand-Mounter Pyro Rocket. They are all stack with enchants from Enchanters. Additionally, they can make Saronite Bombs which come in handy in many combat situations.
The benefits for equipments will be helpful for both PvE and PvP players, one that, in many people's eyes, is an outright necessity.
WotLK Unique Profession: Jewelcrafting
Most players are willing to choose Jewelcrafting profession at first in WoW WotLK. Because Jewelcrafting is perhaps one of the most unique professions in the game. Although it doesn't provide enchants ala Enchanters compared to Engineering profession nor does it necessarily provide tons of crafted armor akin to Tailoring and Blacksmithing, it can give players something more important for enhancing equipment—Gems.
Gems, like enchants, perform as an additional way to improve stats. Sometimes, you may get a minor increase on a specific stat with the help of ala Enchanters. However, gems are more powerful as they give a more significant amount. In addition, Jewelcrafting is the only profession that can craft necks and rings.
Although these advantages are so important, the Jewelcrafting profession also offers other benefits for players. Jewelcrafters get what may be the strongest profession-specific bonus of them all, Jewelcrafter-specific Gems. The gems are similar to normal gems which provide specific amount of stats and can be placed in the sockets. However, you can get more gems in rewards than other professions.
WoW Popular Profession: Blacksmithing
Blacksmithers serve as the mail and plate armor maker, they will become the most popular profession in the game. It is similar to Tailoring , which can craft gear for specific classes, for instance, Paladins, Warriors, and the new Death Knights. On the other hand,  it also craft weapons for most classes, they can be used for dungeons and raids. 
In addition, Blacksmithers, like Enchanters, have their specific bonuses for themselves. They can add a socket to a belt by making Belt Buckles. And they can also create sockets in the Bracer and Gloves slots, gems can be placed in these slots in order to improve the basic stats of gear. 
We have listed some popular professions for players to choose in this article. You can select one of them as your first class in WoW Classic WotLK and familiar their skills in advance. And if you want to improve the level of your characters quickly, you need Buy WoW WotLK Classic Gold to collect more XP for upgrading in the game.