WoW Dragonflight Profession Guide: How to Level Up Enchanting in Dragonflight Expansion
Date: 2023-01-03 08:39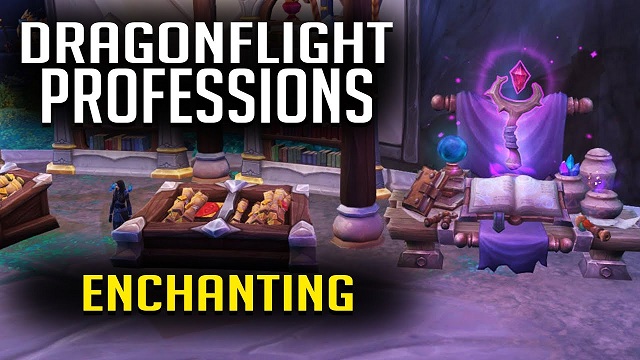 Many players have joined in the world of WoW Dragonflight expansion, and they are going to explore the large world with their new characters in the game. At the same time, some players consider professions for their characters, they are willing to know the Enchanting profession in the Dragonflight. Do you want to know how to level up Enchanting and improve your characters in the game? You can read this article and learn from the guidance. Players can get Cheap WoW Dragonflight Gold to collect more rare materials for crafting good gears or items in the game. 
The Enchanting Profession in WoW Dragonflight
Enchanters can imbue items with additional stat bonuses or special effects, craft wands for casters, and create things that grant cosmetic spell effects to equipment. Players gather materials by disenchanting uncommon, rare, or epic gear. The enchanters specialisations are enchantment, insight of the blue, and rods, runes, and ruses.
How to Level Up Enchanting Profession in WoW Dragonflight
In order to level up your Enchanting profession, you'll have to craft items that grant skill points and disenchant items that you gather as you level up in the Dragon Isles.
While disenchanting items, look to make items that have a First-Craft bonus. You can tell which item will grant the First-Craft bonus if it is labeled as such on the left sidebar before crafting the item. Some of the items you'll want to craft require rare reagents like Spark of Ingenuity and Artisan's Mettle. These are time-gated, so make sure that when you use them to craft something rare, it's exactly what you want.
In Dragonflight it's not possible to increase Enchanting past 65 using regular just recipes from trainers. Most high-level recipes can only be unlocked via Renown or Specializations. These take a long time to unlock, but it's possible to craft at least some of them without using your own mats thanks to the Crafting Orders system.
The best way to reach Enchanting level 100 is by using a combination of recipes from Renown and Specializations, as opposed to trying to focus on just one or the other. Doing so opens up more options and allows Enchanters to fulfill a wider variety of Crafting Orders.
Enchanting Specializations
When you hit 25, you will unlock Specializations. I would suggest having a little bit of a look through the specializations. Spend some time reading through them, then choose which direction you might want to go.
But don't be too hasty with spending points just at this time unless you have a clear goal of which direction you wanna go. The Knowledge points are going to be the limited commodity that you will never be able to get enough of, and you will always want more of. You can continue leveling your profession and return to choosing a specialization and spending knowledge points a bit later.
You will need 50 skill points to unlock the second specialization and 100 for the third. 50 is very easy to reach, but it may take you a little while to level all the way to 100. So, be aware that you will have to choose which one you feel you can do without for the longest. 
Players who want to choose Enchanting profession for their characters can try to figure out how to level up this profession, and you also need collect a large amount of materials instead. Players can also Buy WoW Dragonflight Gold to gather rare materials for crafting from the market in the game.