Diablo Immortal Barbarian Build Guide: How to Build the Best Barbarian Class
Date: 2022-06-15 08:31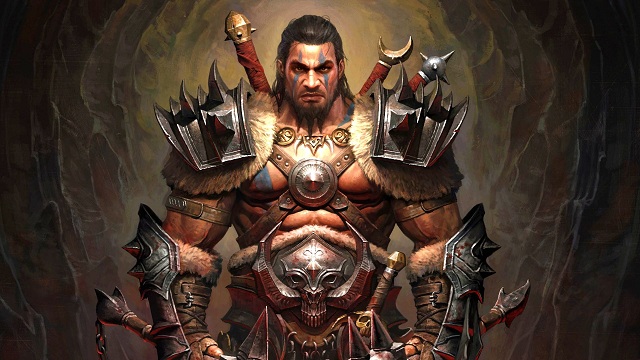 There are several classes for players to play in Diablo Immortal. Barbarians are one of the most popular classes in the world of Diablo Series. If players want to become a quick, offensive powerhouse in the battlefield of Diablo Immortal, you need to know how to build the best Barbarian class in the game. Players can Buy Diablo Immortal Gold to purchase suitable gems or gear for Barbarian class,which improve their abilities in battle. 
What's the Barbarian Class in Diablo Immortal?
Barbarians are one of the fastest and most powerful classes in Diablo Immortal. Their ability to wipe out hordes of enemies with Area of Effect (AoE) attacks makes them a great choice for leveling and farming. The Barbarian is an aggressive class that is constantly getting up close and personal to deliver devastating attacks. Arguably the king of melee combat, you are in the heat of battle at most times, whether you are fighting off swarms of enemies alone or leading your team into battle. You have many different Skills that have Crowd Control effects allowing you to endlessly pin down enemies. 
How to Build the Best Barbarian Class
Skills For Barbarian
Primary Skill: Frenzy (unlocked at level 32)
Whirlwind (unlocked at level 8)
Leap (unlocked at level 28)
Undying Rage (unlocked at level 44)
Wrath of the Berserker (unlocked at level 50)
As a melee and strength-based class, both the primary and secondary skills of Diablo Immortal's barbarian centre around being right in the heat of the battle. The default level one primary skill, lacerate, is one of the better starting skills throughout the classes, launching a series of powerful attacks. The level 32 primary skill unlock for the barbarian, frenzy, is also incredibly effective, functioning similarly to lacerate, but with a higher damage output that stacks up to five times.
While the other skills mentioned here are powerful, none are quite as useful as the Whirlwind ability. Whirlwind does exactly what it sounds like - your Barbarian becomes a moving whirlwind that deals damage to all surrounding enemies. With certain Legendary Gear, you can even pull enemies in while using whirlwind, creating a focused area of pure carnage on the battlefield. Whirlwind is a Diablo staple, and it continues to prove crucial for this Diablo Immortal Barbarian build.
Attributes For Barbarian
We rank these attributes from most important to least important for a Diablo Immortal Barbarian build:
Strength
Vitality
Fortitude
Willpower
Intelligence
As for any melee class, Strength is the most important attribute for a Barbarian in Diablo Immortal. It increases your damage for any skills, making it an obvious focus for anyone who opts for the Barbarian class. Vitality and Fortitude follow closely behind, with Vitality increasing your Life and Fortitude raising your Armor. These will help you survive while tearing through the middle of a group of demons, ensuring your survival in even the most hellish conditions.
When players hit the battlefield in Diablo Immortal, they should use the Barbarian to draw enemy aggro, deal AoE damage, and close gaps to enemies for melee attacks. Players can use quick attacks like Frenzy and Whirlwind to bombard opponents with rapid strikes while closing the distance more rapidly than any other character. The key strategy to playing a Barbarian is continuing to move and strike enemies to draw aggro and deal heavy damage.
Players need collect Diablo Immortal Gold to level up their Barbarian Class fast, and they will have access to enter the end game of Diablo Immoral.