Diablo Immortal New Update: How to Change Original Class in Diablo Immortal
Date: 2022-07-26 08:39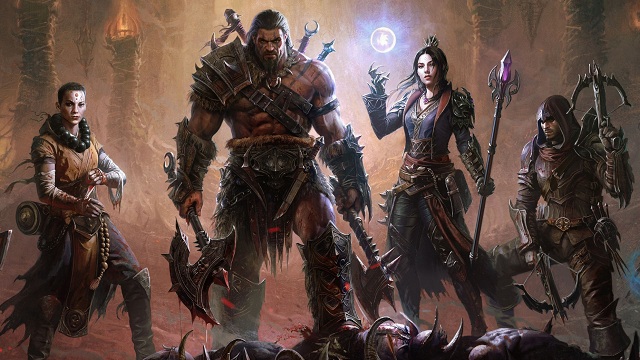 When players first come into the world of Diablo Immortal, they will be confused about the choices of different kinds of classes in the game. For instance, the Barbarian, the Monk, and the Crusader. Novice players are not familiar with the normal stats of each class in the beginning, so they may choose the class that is not suitable for their long journey in Diablo Immortal. Or some players just want to explore a new class in the game. Diablo Immoral has a new update about class change feature that players have access to change your class. Diablo Immortal Platinum can be used to collect more rare materials for crafting gems or good gear for characters in Diablo Immortal. 
The Way to Change Class in Diablo Immortal
There is one requirement that players must fulfill before they can change class in Diablo Immortal: their character must be Level 35 or above. While it should not take a tremendous amount of time to reach that level, this requirement does mean that fans will not be able to change their class in the earliest stages of the game. Indeed, players that are unhappy with their class straight out of the gate will need to roll an entirely new character if they want to try something different.
The Shifting Flames Brazier is located in Selynne's Basilica, to the north and east of Westmarch — you can see the navigation point on the above map. Once you arrive, the flames in question do seem to be shifting around a fair bit, and clicking on the brazier will open a menu explaining the rules of class changes. There's no fee for the feature: you just have to head to the brazier and configure your new class.
The Shifting Flames give you two options: Overview and Class Change. Check out the Overview before switching class to go through all of the class change rules, requirements, and details. The Class Change button takes you to the class selection screen to try something new. You can also use the Shifting Flames to alter your appearance. Once you have confirmed your selection, you get a prompt showing all the cosmetics bound to your previous class.
What are rules of Class Change in Diablo Immortal?
Firstly, players can only change their class once every seven days. Secondly, the ability to change classes only becomes available after hitting level 35. Finally, class-specific gear and cosmetics will not carry over to the new class. 
None of the equipped gear or stash from the previous Class will be lost, including progress regarding Horadric Vessels and the Helliquary. It should be mentioned that all the details mentioned concerning Class Change are reversible, meaning that players can return to their previous Class whenever they wish. Furthermore, they can freely choose between multiple Classes since no restrictions will be placed on partaking in this feature.
The only thing you'll need to start over again is collecting Legendary items which are specific to your new class. This feature will allow players to try out all available classes without having to abandon their main character and start grinding all over again. If you change your mind and want to go back to your character's original class, the game will automatically reverse to your previous class' visual customisation and will equip all legendary items you had before the change.
When players have changed their classes, you will need equip related legendary items for them. You can Buy Diablo Immortal Gold to purchase them from the market in Diablo Immortal, which will increase their basic stats of attack or defense. Then, they can complete more quests or dungeons in the game.