FIFA 23 Career Mode Changes: Three New Player Personalities Introduced in Career Mode
Date: 2022-09-09 08:36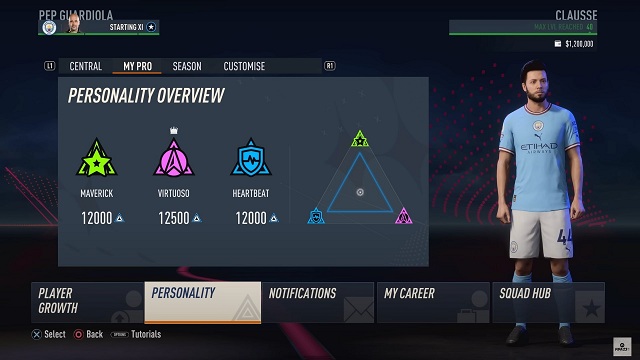 Although FIFA 23 Ultimate Team is the most popular mode in FIFA series, many players are still loving play FIFA 23 Career mode. There are a lot of new features to Career mode in FIFA 23. One of the most attractive feature is the new player personality system. Players have access to boost certain attributes to their players on the field. Do you understand the player personality system? You can read this article to know the basic information about it. Players can also use FUT 23 Coins to level up their players or teams in FIFA 23 in order to defeat more competitive opponents.
What's Player Personality System in FIFA 23 Career Mode?
Personality traits are factors that define your player's qualities in FIFA 23. Even the smallest action has a lot of impact. For instance, choosing to shoot or pass it in a specific situation decides which direction your Personality will lean towards. Some of the new features in the game include the decisions you make off the pitch, and this impacts your player's journey.
Three Types of Player Personality 
Maverick: Aggressively chasing goals, individualistic, and looking for stardom. Traditionally look for a more lavish lifestyle.
Virtuoso: Ambitious and always focused on performance. Skillful and intelligent, humble, and focus on finances.
Heartbeat: The pulse of the team, and displays willpower, determination, and resilience. Finances and influence are often used for charity purposes.
Players For Three Types of Player Personality
Maverick Player:
The Mavericks are the players who care about personal goals and achievements over other things. Along with that, these players have a knack for leading lavish lives. A Maverick personality player will have an ambitious and individualistic career in FIFA 23. An example could be star players like Cristiano Ronaldo or even Kylian Mbappe.
Virtuoso Player:
Unlike Mavericks who seek out goals, Virtuoso players will likely seek out assists or key passes that can break down a defense. They are skillful and intelligent, which makes them the perfect personality for playmakers and game changers, and will actively attempt to outwit their opponent. Players like Lionel Messi and Luka Modric are Virtuoso players with the ability to outsmart their opponents and change the course of a game in a moment.
Heartbeat Player:
Heartbeat players are true leaders on the pitch who will always place the team's main objective over their own individual ones. They can lift the morale of their teammates during a game and can read their FIFA opponents' move, breaking down attacks before they even start. Players like N'Golo Kante and Jordan Henderson are the epitome of Heartbeat players, often placing the team over themselves and remaining humble and soft-spoken about their own talent.
How to Boost Player Personality Points in FIFA 23 Career Mode
There are several ways of gaining Career Personality Points in FIFA 23 Career mode. 
First, players will be given choices throughout their careers. How they choose will determine their Personality Points. Mavericks' choices will reflect their focus on reputation, Heartbeats on the community, and Virtuosos on their game. Personality points can also be gained by playing football. For instance, assists will earn you Heartbeat points, while shooting will earn you Maverick points. 
Lastly, how you spend your money will also have an impact on your Personality Points. Splurging on luxury items will earn you Maverick points, while donating to the community will earn you some Heartbeat points. If you are Virtuous, investing in your play can earn you some extra points.
The new player personality system is good for players to foster their desired players on the field according to their role in the team. If you want to level up players quickly in Career mode, you can Buy FIFA 23 Coins to purchase more good equipment to enhance the points. Different styles of players will influence the whole team on the field.