Fortnite Game Guide: Complete Tasks About Recovering A Data Drive From Daily Rubble
Date: 2022-04-27 08:32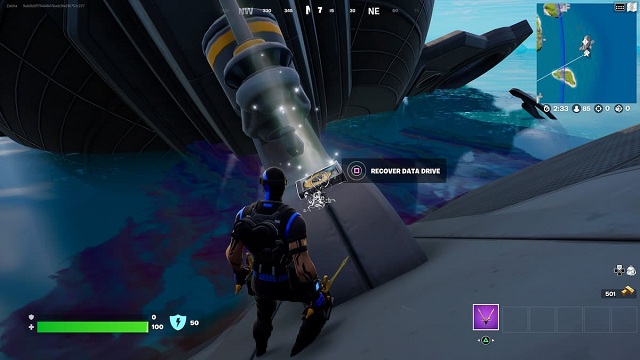 With the coming of new week of Fortnite, players have access to complete another batch of quests for large chunks of XP. One of these new quests demands players to recover a Data Drive from Daily Rubble. Because this locations is not obvious on the map, players have difficulty in finding it in the game. If you want to complete this quest task easily, you can read this article to know guidance about it. In addition, players can buy Cheap Fortnite V-BUCKS to collect some necessary Shield Potions for characters in order to survive longer in the battlefield. 
How to Recover A Date Drive From Daily Rubble
Before you can recover a data drive in Fortnite, you will need to first establish a device uplink near the Daily Rubble to activate the challenge; however, since it is not a marked POI on the map, finding Daily Rubble can be a bit tricky. 
Daily Rubble is one of the newest landmarks which was created following the IO Blimp crashed into the sea south-west of this named location. This is the same blimp that once flew above The Daily Bugle POI. After about a week or so, players were successful in defeating the enemy, leading the next patch to crash the looming blimp into the ocean just southeast of its original location. A hulking wreck jutting out of the water, players will want to head to the tail-end of the IO airship, where they will find the Data Drive waiting.
As the entire Daily Rubble landmark is a crashed airship, you will be able to see it from a few miles away. Simply take a dive into the water and swim to the tail of the crashed IO airship.
You can land there directly are jumping from the Battle Bus, or you could first visit the Daily Bugle to collect weapons before heading out to this landmark. Before you can complete the challenge, you'll need to establish a Device Uplink near Daily Rubble.
You can do this by visiting one of the smaller islands southeast of the Daily Bugle, near Daily Rubble. There's a small house along the shore where you can find a hologram audio log, and you must interact with it to establish a Device Uplink.
From here, you have to recover a data drive from Daily Rubble. This is another new-ish spot that can be found north of these three islands. If you look at the map, it's the crashed ship that is almost at the edge of the map. You can look for a boat nearby or just swim your way there (the latter is safer since you won't be making too much noise).
You only need to recover one data drive, although there are several spots, so take your pick! And no, this doesn't involve diving underwater, unfortunately. I went for the one on the right wing of the ship. If you're looking at the map, it's the spot on the southern corner of the ship.
After you have made your way out to it, you'll just need to make your way to the rear of the blimp, and you'll find what looks to be like a hard drive, and once you snag that up, you'll be ready to go on your way. You'll have achieved an extra 23,000XP for finishing this quest, as well, so making sure that you make your way over here for some quick XP can't hurt! Unless you get sniped by an enemy, that is.
You can look through this article to know about how to complete this quest, it is important for players to know where to find the Data Drive from the ship in the game. And if players are lack good weapons, you can Buy Fortnite V-BUCKS to purchase them from the shop and equip them in time.