Fortnite Game Guide: Where to Find Holiday Decorations and How to Destroy Them in Fortnite
Date: 2021-12-31 08:41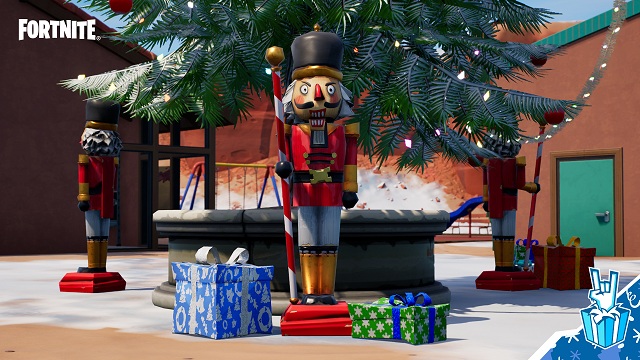 Due to the Fortnite Winterfest, there are a variety of activities for players to do through the holiday season. During Winterfest, players can go to the Cozy Lodge and Sgt Winter to receive one present per day freely. They will different kinds of items from these presents, such as emotes, sprays, and weapon skins. Players can buy Cheap Fortnite V-BUCKS to select good items for your character in Fortnite in order to have a good experience in the game. 

Except for the presents, there are also some new challenges for players to complete in order to gain more XP and rewards. One of the Winterfest Challenge is about finding and then destroying 10 Christmas Decorations in Fortnite island. You can learn from this article to complete this challenge. 
Where to Find Holiday Decorations in Fortnite
You can find a lot of decorations all over the island, but we recommend that you go to either Greasy Grove, located southwest of the center of the map, or Coney Crossroads, located at the upper part of the map, in the crossroads between the area, The Daily Bugle, and Shifty Shafts, as both are neighborhood/urban-like areas filled with houses and buildings, all filled with Holiday decorations. After spotting the Holyday decorations in the mentioned areas, just bring up your melee weapon and hit them hard, until they are destroyed.
With all challenges, players try to complete them as quickly as possible. Sgt. Winter's workshop is one of the best locations to drop and complete this challenge as there's a large number of holiday decorations close to one another.
You'll notice candy canes outside, two holiday trees, and the snowflake decorations inside the workshop and hanging outside the gas station part of the location. In total, there's more than twenty decorations that you can destroy.
The next best location is Greasy Grove. Land on the north side and there's a number of crackshot decorations along with candy canes outside nearby houses. It'll take slightly longer to complete the challenge here as the holiday decorations and spread out fruther.
Coney Crossroads is another good location on the south side. Again, we'd highly recommend dropping at Sgt. Winter's Workshop as it'll take you less than thirty seconds to finish the challenge there.
Players dropping in should visit points of interests with plenty of houses, so checking the numerous suburban areas would be a good place to start. Greasy Grove to the Southwest, Sleepy Sound to the North, and Coney Crossroads near The Daily Bugle POI are solid places to explore.
Specifically, players should be on the look out for big holiday candy canes and plastic looking christmas trees positioned in yards or on decks, holiday wreaths hanging from buildings, and snowflakes hanging in windows. There are a lot of potential options and for players who aren't sure if something counts or not, the easiest thing to do is destroy it to find out. Decorations can be destroyed in numerous ways like pickaxes, guns, explosives, and more. One thing to keep in mind is that shooting at the descorations not only wastes ammo, but it gives away the players position as well, so using a pickaxe is likely the best method.
How to Destroy Holiday Decorations in Fortnite
Once you've found Holiday Decorations, destroying them is as simple as hitting them with your trusty pickaxe. You can shoot them if you prefer, but this will waste ammo and give away your location.
To complete this Winterfest challenge, you'll need to destroy a total of 10 Holiday Decorations. You don't need to do this in one single match, so you could just work through it as you play regular matches.
When players can complete this holiday challenge, they will be rewarded with more XP and good items. In addition, players expect to decorate their character with cool skins, you can Buy Fortnite V-BUCKS to unlock special skins for your character. There are cheap prices about Fortnite V-BUCKS on z2u.com.