Genshin Impact Tighnari Build Guide: How to Build the Best Tighnari Character
Date: 2022-09-16 08:42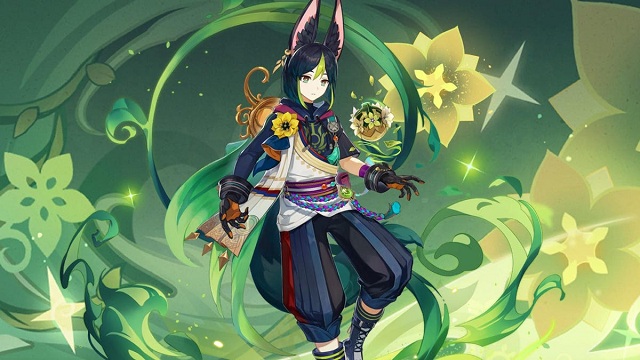 With the release of Genshin Impact 3.0, there are three new characters introduced into the new region Sumeru. One of them is the first five-star Dendro character called Tighnari. Many players are interested in this new character, and they want to know the way to build the best Tighnari in Genshin Impact. You can get the guidance from reading this article carefully. Players can use Cheap Genshin Impact Crystals to get the best gear for their desired players in Genshin Impact 3.0.
What's Tighnari in Genshin Impact 3.0?
Tighnari is the first 5-star Dendro character in Genshin Impact. He's a Bow character who focuses on Charged Attacks and Taunting much like other characters like Ganyu. As the head of the Forest Watchers, he plays a key part in Sumeru's storyline
How to Build the Best Tighnari in Genshin Impact
Main DPS Build
After reading about the skills Tighnari possesses, your first thought might be to build for the main damage dealer. This character requires a high amount of field time, and it'd be detrimental to your overall damage if you didn't focus on making him the only main DPS with this build.
Best Weapons for Tighnari DPS Build
Hunter's Path
The new five-star bow Hunter's Path is Tighnari's best weapon. The secondary stat raises critical rate, which admittedly isn't the most useful since Tighnari has flat critical rate and damage stats. The passive skill is what makes this one so potent, though.
It boosts all elemental damage by 12 percent, and after you hit a foe with a charged attack, the user's charged attack damage increases by 160 percent of their elemental mastery. The effect lasts for 12 charged shots or 10 seconds, whichever comes first. Time it with Tighnari's elemental skill, which drastically shortens the the time it takes to charge a shot, and that's some impressive damage potential.
Best Artifacts for Tighnari DPS Build
Choosing an artifact set that works with Tighnari is also rather simple. The Deepwood Memories set was launched alongside him and is hands down the best artifact set you can place on him. This set focuses on making Tighnari's Dendro attacks hit a bit harder.
Deepwood Memories: Tighnari gains a 15 percent Dendro damage increase. After Tighnari's elemental skill or burst strikes an enemy, their Dendro resistance falls by 30 percent for eight seconds.
You can get the Deepwood Memories artifact set from the Spire of Solitary Enlightenment in Sumeru. Getting the artifacts only uses resin, so you will be able to get a five-star set without having to spend a single dime.
Best Team Composition for Tighnari 
Tighnari wants to trigger elemental reactions. His high elemental mastery is going to make this pretty evident, so if that's the case, why not take advantage of it? Since Tighnari will want to be the character that deals a truck-load of damage with his skills and charged attack, he's going to be the main DPS of the team.
Fischl/Yae Miko
Tighnari
Sucrose
Dori
As Sub-DPSes, Fischl and Yae Miko perform the same role: you want them to drop their elemental skills on the battlefield and switch them out so that Tighnari can deal damage and trigger Catalyze reactions. Sucrose is also a great pick as another Sub DPS as she increases the Elemental Mastery of the characters in the team when she triggers Swirl; this is a great way to boost Tighnari's Elemental Mastery. Dori as a healer can be replaced by any other support, however, she also has her merits - namely her lamp which can regenerate energy to whoever it's connected to.
If players want to build the best Tighnari DPS build in Genshin Impact 3.0, you can learn from this guidance and build the powerful character in the game. And you can Buy Genshin Impact Genesis Crystals to purchase essential gear for Tighnari, who will help you a lot in the exploration of Sumeru Storyline.