Lost Ark Pet Ranch Guide: How to Level Up Your Pets to Legendary in Lost Ark
Date: 2022-09-06 08:37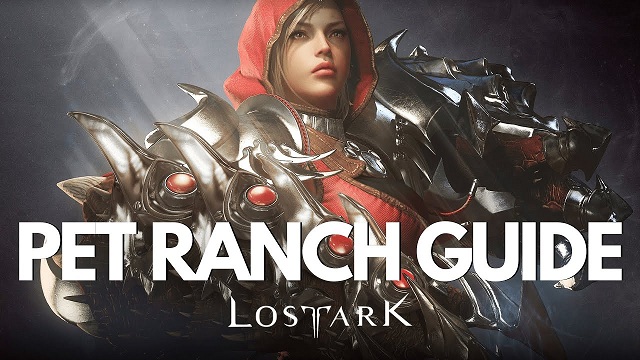 Lost Ark August update brings players an important feature - the Pet Ranch, where is a new location that pets can evolve into helpful companions and earn more good rewards in turn. Players are eager to level up their pets to the Legendary, which will help them a lot in the exploration of Lost Ark. So, if you want to know more about the Pet Ranch, you can read this article for the guidance. Players can use Cheap Lost Ark Gold to upgrade their weapons or armor in time and try to complete more quests in Lost Ark. 
What's the Pet Ranch in Lost Ark?
The Lost Ark Pet Ranch is a new location that has been added to the Stronghold, where players can level up their pets to become more useful while also earning unique rewards. This update adds the Ranch and the Cookie Workshop, which have different uses for you and your pets. To unlock these, you will need to have reached Stronghold level 15, and unlocked the Farm, Cave, and have a pet. This then unlocks the Yay, Pet Ranch that can be started with your Butler. In the Ranch, pets can relax and play with other pets you may have, which earns them Morale. 
How does Pets do in Cookie Workshop?
In the Cookie Workshop, pets can be put to work to make Jam Cookies, which earn them Pet Expertise and allows them to level up. Jam Cookies can also be exchanged at the Cookie Vendor for rewards, such as Pet Growth Tokens. However, when a pet spends time working, they lose morale, so it's important to balance out both so you can earn rewards while also having a happy pet. 
How to level up your pets fast?
The best way to level up your pets to legendary status would be to overfeed them by using vitameow through the affinity exchange.
Overfeeding a singular pet will allow you to basically run them for several days for max XP and Cookie gain.
You should be using these Cookies for the RNG token box for the Legendary Upgrade.
There is a chance for your pets to randomly become "happy" while recovering on the ranch, allowing them to work for extra XP and Cookies for a set duration.
To upgrade your trusty companion to Legendary, a player must first reach max Pet Expertise with that specific pet. This can be done by placing a pet into the new Cookie Workshop to have them work and produce Jam Cookies. Take care, though—working in the workshop will decrease a pet's morale, and without morale, they'll no longer be able to produce Jam Cookies. To regain morale, you'll need to place your pet back on the ranch so they can relax and spend time with your other pets.
Pets earn both expertise and Jam Cookies simultaneously in the Cookie Workshop, and when the pet's expertise reaches max, it can finally be upgraded to Legendary. To upgrade a pet, you must exchange the Jam Cookies created in the workshop for Pet Growth Tokens. You'll need 30 Pet Growth Tokens to upgrade your pet.
Why do players need Legendary Pets in Lost Ark?
Once a pet reaches legendary rank, the pet will learn a random powerful skill that will be applied in combat encounters at random times. These skill effects range anywhere from allowing players to recover a significant portion of their health, increasing attack speed, or granting a chance to reset the cooldown for movement skills.
If you want to explore more complex dungeons in Lost Ark, you had better foster your pets in the Pet Ranch now. Legendary pets will help you pull through more difficult challenges in the process of questing. In addition, you can also Buy Lost Ark Gold to get good equipment for your characters in order to protect them well in battle.