Madden NFL 23: Improvements To FieldSense New Game System
Date: 2022-07-12 08:38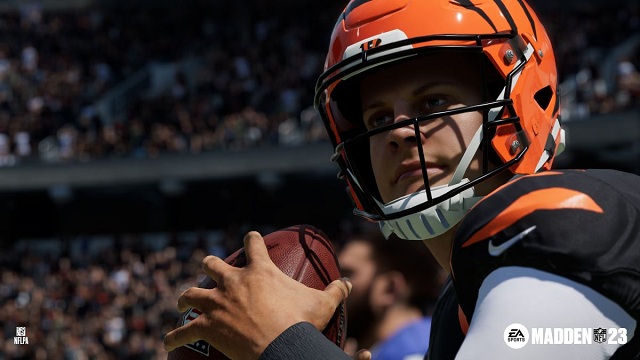 Aside from some changes to the game's core mechanics, Madden games generally remain the same year after year. For Madden NFL 23, the biggest gameplay changes are all under the umbrella of the FieldSENSE system. This will bring some changes to player control at each position, giving fans more control over the action on the field. Welcome to buy MUT 23 coins to experience the FieldSENSE game system.
What is the FieldSENSE Game System in Madden NFL 23?
FieldSENSE is actually a new animation system that affects the gameplay of every position in the Madden NFL 23 midfield. Madden NFL 23 adds a bunch of new animations to the game. While it might sound like it's just about improving the graphics, adding more animation affects everything from how tackles work to how flexible the player is when turning.
Four New Control Mechanisms for FieldSense:
Come to life in Madden NFL 23 in four main ways with these new control mechanics: Hit Everything, Skill-Based Passing, 360° Cuts and WR vs DB Battles.
Hit Everything
A new defensive mechanic that allows players to stop from any position in any match, the type of player affects the outcome. A new aerial tackle system lets defenses disrupt passes in dynamic ways, as well as a stand-up tackle feature that gives players more control over two-man tackles. Hit Everything takes defensive coverage to a whole new level, using six key components to deliver new game interactions and over 3,500 new animations, giving you precise control over every hit, tackle and collision for more realistic results. The six components are: piling, standing tackle, hitting block, mid-air knockout, and attaching block.
Skill-Based Passing
Skill-based passing is designed to give quarterbacks expert-level control over every pass, using a new pass meter to indicate power and trajectory, and new mechanics for pinpoint positioning. Skill-based passing enables you to guide receivers to open and place the ball in the perfect spot where only they can catch it. Take a back-and-shoulder throw, place it in perfect position on a corner line, hit an impeccable end zone fade, or put it over the defense in a continuous run. Skill-based passing opens up the entire Madden NFL 23 offense in a whole new way.
360° Cuts
360° Cuts provide precise control, giving players more responsive control over the ball carrier, while 360° Cuts utilize both the Left Stick and LT/L2 to allow more freedom to make precise cuts and gain extra yards. Previously, players could only rely on their basic moves to choose between a hard cut or a fillet, but now you decide when and where to make the cut so the ball carrier can find the perfect lane as quickly as possible.
WR vs. DB Battles
Secondary one-on-one fights also get a huge upgrade, as FieldSense introduces branching WR releases and cuts, defensive backpresses and counters, and an all-new defensive evasion mechanic. While all of these are available in every game mode, WR vs. DB Battles were created specifically for player-locked modes like Face of the Franchise: The League and Squads in Superstar KO and Madden Ultimate Team. To make classic positional fighting more realistic, receivers can now use multiple releases and open cuts, while defensive backs can use a new pressure mechanic.
The new system appears to be a major improvement in gameplay compared to last year's game, but Madden NFL 23's FieldSENSE system, which is exclusive to the PlayStation 5 and Xbox Series X, is exclusive to next-gen consoles. While this news may disappoint some fans, other new features will still be included. If you want to experience Madden 23's new game features, welcome to buy cheap Madden 23 coins at z2u.com.