NBA 2K22 Game Guide: How to Achieve Legend Status in New Season 4 of NBA 2K22
Date: 2022-01-24 08:48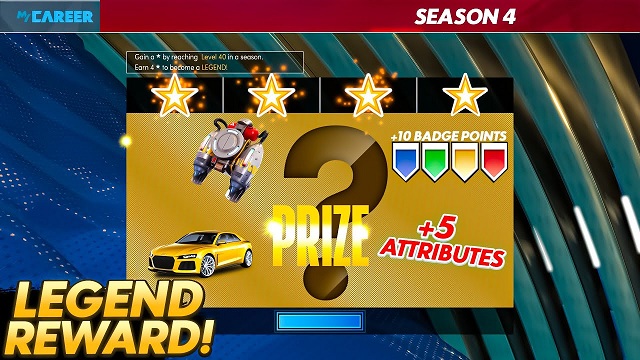 Players have known about the new mechanism of NBA 2K22, it introduce Seasons mode in the new series of NBA 2K. There are a variety of challenges and rewards for players to get in the limited time. And players are also experience of the new features of Seasons mode in the game. Players are willing to earn the Legend Status in January Season in NBA 2K22. Meanwhile, players can also buy 2K22 MT to purchase some good players, they will help you win more matches in NBA 2K22. 
How to Achieve Legend Status in NBA 2K22
To achieve Legend status in The City, players must reach level 40 in four different seasons. Players do not have to reach level 40 in consecutive seasons, but level 40 must be reached in four separate seasons. While this is no easy task, players have a little over a month each season to reach level 40.
So far, the level 40 rewards for seasons are hit or miss whether players consider the grind worth it. Season 4's level 40 reward features a Tiger pet that will follow the player around, and Season 2 features a skeleton costume, so players can potentially be walking around looking very intimidating.
The easiest way to reach Level 40 in Season 4 of NBA 2K22 is by completing the quests that refresh every week throughout the season. There are also many opportunities to earn XP by competing in various games around The City, such as Rooftops. Thankfully, one of the updates to Season 4 has also made vehicle travel easier, allowing players to get from activity to activity more quickly as well. Players should keep updated with the latest available locker codes in NBA 2K22, as these rewards can also sometimes help earn them more XP quickly.
To earn a lot of XP quickly, players can use an XP coin or hope for a double XP daily spin reward, and then head to the Park to play a lot of games. 2 vs. 2 games go rather quickly and give players more of a chance to produce more stats to help level up. However, playing at your home Affiliation court will earn 20% more XP, so it may be worth it to play at those courts.
Season 4 of NBA 2K22 includes new challenges and Agenda tasks for players to complete and introduces double Signature Challenges for the first time in a MyTEAM Season. Players who were committed enough to reach Level 40 in Seasons one through three and complete the Unlimited Showdown Tier in Season 3 will already have Level 40 unlocked in Season 4 if they haven't logged in since it began. Completing the Season 3 Unlimited Showdown Tier in NBA 2K22 earned players 150,000 XP when Season 4 began, meaning there are likely already a few players who have Legend Status unlocked.
In order to achieve Legend Status in NBA 2K22, players should try their best to finish each challenges of different modes in the City, such as My Team Mode, My Career Mode. And there are also some new and interesting activities around the city. Players should travel around the city to find them and complete them quickly in order to obtain more and more XP and upgrade the level of character in the game. So, if you want to accelerate the process, you should complete various challenges in NBA 2K22. 
Besides, when you are willing to complete quests in the game, you should pay attention to Buy NBA 2K22 MT in order to earn more XP in the matches. It will help you accelerate the process of earning XP in the game. You can find Cheap NBA 2K22 MT on z2u.com.