NBA 2K23 MyNBA Eras Mode: Players have access to Rewrite History of NBA in NBA 2K23
Date: 2022-08-20 08:35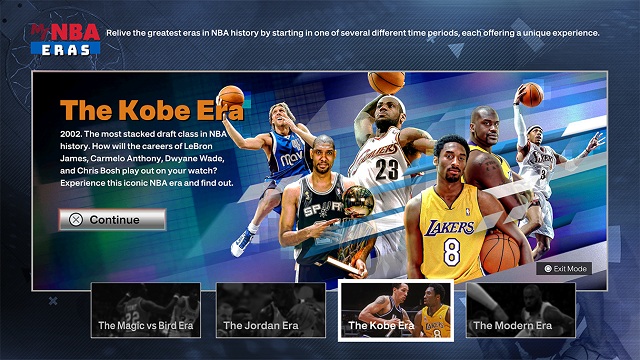 Players have heard from the news that there will be introduced new MyNBA Eras mode in NBA 2K23. It is totally different from the normal season mode in the game. Players have access to rewrite the history of NBA in this mode, like transferring their favorite players to other teams. If you want to learn more about this amazing game mode, you can read this article carefully. Players should earn more NBA 2K23 MT Coins to get more powerful players for your team and win more matches in NBA 2K23.
What's the New MyNBA Eras Mode in NBA 2K23?
The new MyNBA Eras Mode – exclusive to PlayStation 5 and Xbox Series X – players will be able to start a new MyNBA save at specific points of NBA history, allowing them to meddle with past events and reconstruct them to how they see fit. It's also a great way to play the game in an era aside from our own today, adding more options for players who have grown tired of the same MyNBA formula year after year. 
The new MyNBA Eras will be separate from the typical MyNBA mode so players can continue to play both online and offline mode as usual at their leisure in what will now be called "The Modern Era." 
In total there will be four Eras players can choose from: 
The Magic vs Bird Era
The Jordan Era
The Kobe Era
The Modern Era
Each Era also receives its own unique visual facelift – with designs and atmosphere matching the aesthetic of the time. Every team will have at least one unique court along with unique uniforms, and you'll be able to play with specific filter systems that will replicate the viewing experience of watching through a television from that time. What's more – every expansion team and franchise relocation is accounted for in the game.
While MyNBA is a mode fans of the series have come to expect in the game every year, MyNBA Eras adds a brand-new wrinkle to the mode that players probably didn't see coming. In it, you can start a franchise in one of four crucial years in NBA history: 1983, 1992, 2002, or the present day. While the mode will play much like you'd expect if you begin in 2022, choosing one of the other three eras is meant to be the real draw of this year's game.
These years weren't picked at random. They each represent a season immediately preceding NBA drafts that forever changed the sport. In 1983, you'll start a year before Michael Jordan was drafted. In 1992, you'll tip off one season before Shaq arrives to forever change how bigs play in the league. In 2002, you'll begin just before recent and modern stars such as LeBron James and Dwayne Wade made their debuts. The studio is calling these the Magic vs. Bird Era, the Jordan Era, and the Kobe Era, respectively.
As with the Jordan Challenge, MyNBA Eras looks like a blue-sky sports game designer's dream come true, to say nothing of fans who had seen MyGM and MyNBA seem to struggle for depth and new features, taking a back seat to the MyCareer and MyTeam modes. MyNBA Eras, at face value, more than overhauls a sports title's most-iterated mode — it sets a standard for other developers to either envy or live up to.
Players will be crazy about this new MyNBA Eras Mode in NBA 2K23. They can experience the famous all-star players in the different periods in this mode. And if you want to unlock more relevant items in NBA 2K23, you can Buy NBA 2K23 MT to get them from the game-shop. Hope you can have a good experience in the latest NBA 2K Series.