New World: Some Essential Crafting Tools and How to Craft and Upgrade Gathering Tools in New World
Date: 2021-10-12 08:44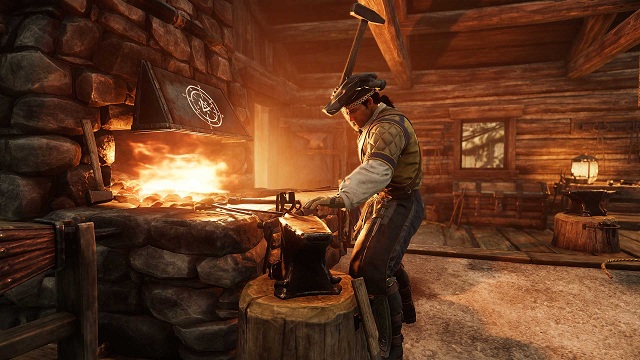 New World has a unique way of attracting players to experience the special life at the start of Aeternum. Players are willing to create a character and step into the new Aeternum in New World. Each player first wakes up in the beach with nothing on the beach. And the first thing to do is trying to survive as long as possible. Instead of planing the routes of resource-gathering and making customized outfits, you should get to the first settlement and make a camp for yourself, and then collect some basic survival tools. 
Players can use a wide variety of equipment other than weapons in New World. Certain crafting tools are more important than other weapons. It can not only help you to gather resources, but also assist your character in the process of early quests in New World. You should pay attention to some items like potions, jewelry, and furniture, they may have functions during the adventure. If you want to make your character survive well in the game, some powerful weapons can be equipped as well. You can buy New World Coins to equip some necessary weapons to protect your character.
Flint Skinning Knife
A skinning Knife can be made with a simple combination of green wood and flint. Players can find them anywhere in Aeternum. You can make it by a simple campfire.
It is often the first tool that most players will make. Because they can find the materials lying on the beach randomly. And there is an early quest for players to complete, which needs a skinning knife to do this. It is about making a camp, killing and skinning wolves.
Wooden Fishing Pole
When players have upgraded at level one or two, they can be allowed to make a basic fishing pole. And the pole requires one ingredient hemp fiber that is a bit tougher to discover. But it is worthy to scout them out. It can grind up the Harvesting Skill when you are looking for hemp fiber. And you will find that the fishing is one of the most interesting and lucrative professions in NW. You can got food and catch treasure chests from the lake, which can get more profits.
Iron Ingots
Iron is a valuable resource in the game which can used for many professions. Players can mine it before they can use iron to craft items. Especially, as a engineer, gathering amounts of iron will help you a lot in building items, like furniture or others. When players reach Tier 2, everything that can be built has iron in it. What's more, they can upgrade their basic tools into stronger mental by using the iron.
A Harvesting Sickle
The Harvesting Sickle is as important as the skinning knife at the beginning of the game. You can decide to craft it or not according to your thoughts about professions. And it is helpful when you are grinding various levels, including Harvesting, Cooking and Alchemy.
You can use it to collect these plants as soon as possible. More plants will be required in the next quests. On the other hand, the sickle need to be repaired and graded when you have used for some times. Just like the same way that armor and weapons do.
A Musket
You can choose different kinds of distance weapons in the game. It is a good option when it comes to the ranged combat. But, only the bow and musket are associated with Engineering skills. Engineering skills will become important with the development of character. They can use it to build furniture and repair kits, even other more complex tools and trinkets. 
Players should craft some essential tools for their character in order to complete simple quests at the beginning of the game, with the process of growing and level upgrading, players may know how to upgrade their tools to build up more powerful gear for their character. But, gathering the related materials is not easy for novice players in New World, especially some rare resources. You can find them on the Trading Post, it may cost a lot of money on it. Buying New World Gold is a good choice for players who want to build up their unique gears in the game. New World Gold prices are cheap for players to buy on z2u.com.