Diamond Casino Heist is coming to GTA 5 on December 12
Date: 2019-12-09 08:38
Grand Theft Auto V is an action-adventure video game developed by Rockstar North and published by Rockstar Games. On December 12, it will get the latest update: Diamond Casino Heist. In the following, the short article will tell the detials of this new content.
The last heist added to GTA Online was The Doomsday Heist in December 2017, a series of missions that included high-tech military hardware, tons of conspiracy theories, and the long-awaited return of the jetpack. While The Doomsday Heist was delightfully over the top, it would be cool if Rockstar brought the mood back to a more grounded crime drama - and I'll be good gosh darned if there's a better way to celebrate lucky heist number 7 than by knocking over a casino.
Rockstar promises Diamond Casino Heist is the biggest and most complex crime to hit the game yet, featuring some differences compared to how past GTA Online heists have worked. You'll be working with the Cheng family to infiltrate the casino. Like any good heist, you'll have to plan your entry point from multiple options, security measures will change unpredictably, and once inside circumstances will require quick thinking and responses mid-mission. Unlike other heists, failure isn't necessarily an end-state; if a piece of the plan goes wrong, you may have to improvise to find another way on the fly.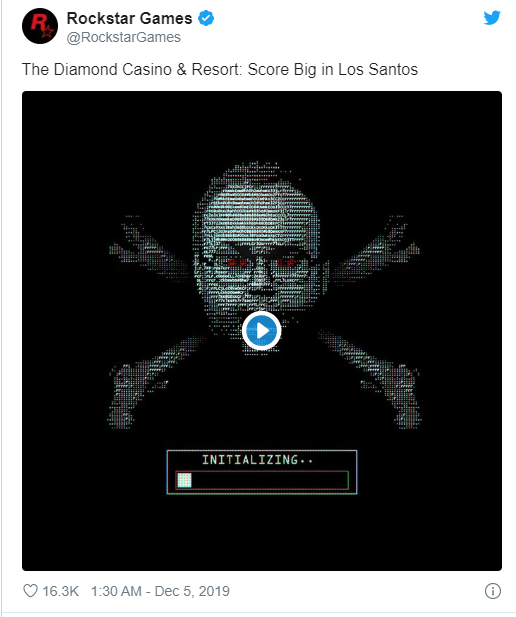 "The Diamond Casino Heist is an all-new approach to Heist architecture and execution: one huge gameplay-packed operation as you work with the Cheng family to infiltrate the most secure building in all of Los Santos," the studio says. "Featuring a diverse range of opportunities for set-up and prep missions that shape your plan of attack, multiple paths of approach, constantly changing security measures and a dizzying array of choices once inside. Expect outcomes for you and your crew to change on the fly as you deal with each new situation, leading to more choices mid-mission."
4-Player Teams, 4 Ways to Play – Choose your roles and strategize to complete each stage of a Heist, with tight communication and coordination the key to success. Some missions will require the team to work as a single unit, while others will break the team into separate roles to complete key objectives. Replay each Heist to experience a different perspective on the action, and complete Elite Challenges for extra cash.
The process of buying and running the Diamond Casino and Resort has been a longtime coming. Players have noticed the massive complex in the game world for years, but it has laid dormant that whole time. Players can use in-game money earned through missions to buy Chips, playing them against the House in casino games like Three Card Poker, Blackjack and Roulette. Slot Machines. Those who actually put the dosh down to buy the place earn a timed regular stipend on their investment.
In order to plan the biggest Heist ever perpetrated in Los Santos, Heist crew leaders will setup an unexpected new commercial venture as a front, a retro Arcade business property shrouding the nerve center within where Heist operations are staged and rehearsed. While the business runs above, down below you can practice hacking keypads or cracking vault doors, store equipment and getaway vehicles, and owners of existing businesses can add a Master Control Terminal to handle all current operations.
Diamond Casino Heist will begin on December 12, do you expect for it? If you want to try it, do not forget to Buy Cheap GTA5 Money at Z2U.com to support your gameplay.