Fortnite Attack on Titan Skin Guide: How to Unlock the Eren Jaeger Skin in Fortnite
Date: 2023-04-17 08:54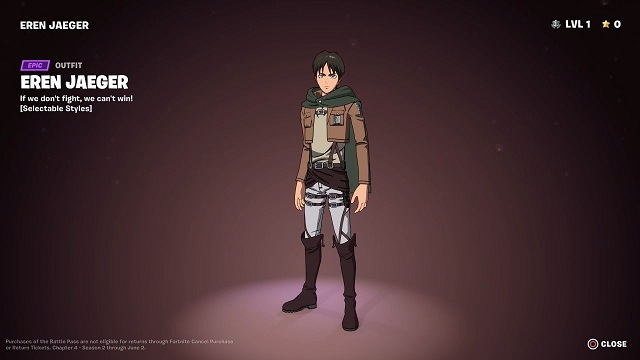 Fortnite and Attack on Titan crossover has attracted a lot of attention from players who like watching Attack on Titan. Fortnite brings new contents and skins of Attack on Titan for players in the latest game. Some players are interested in the Eren Jaeger Skin in Fortnite. Do you know how to get it? You can read this article for guidance. Players can use Cheap Fortnite V-BUCKS to unlock other good items for characters in the game shop. 
The Eren Jaeger Character in Attack on Titan 
Before we dive into how to get Eren Jaeger cosmetics, let's take a quick look at who Eren Jeager is and why he's become such a popular character.
Eren Jaeger, the main character of Attack on Titan, is a popular figure among Japanese manga and anime series fans. The story takes place in a world where humanity is compelled to reside inside colossal walls to safeguard themselves from Titans - gigantic humanoid creatures that devour humans indiscriminately. Eren Jaeger is a member of the Survey Corps, an elite team of soldiers assigned to investigate beyond the walls and battle the
Titans.
The franchise has garnered a massive global following due to its unique storyline and compelling characters. He is known for his fierce determination and unwavering will to protect his friends and loved ones, making him a popular character among fans of the series.
How to Unlock Eren Jaeger Skin in Fortnite
Although it wasn't part of the original lineup of cosmetic items when it was first released, Eren Jaeger is actually a free Battle Pass skin. Everyone that purchases the Chapter 4 Season 2 Battle Pass has the opportunity to get the Eren Jaeger skin.
The skin was only made available with the release of update v24.20, so now, if players complete a series of tasks, they'll be able to claim it as a Battle Pass bonus. In order to receive the Eren Jaeger skin, players must complete all eight Eren Jaeger quests.
Each of these quests also unlocks a cosmetic to accompany the Eren Jaeger skin and complete your collection.
Visit 5 Guard Towers – Unlocks Scout Regiment Salute Emote
Do 300 damage to opponents while airborne – Unlocks Scout Regiment Banner Icon
Destroy 50 structures with a Thunder Spear – Unlocks Regiment Gear Gun Skin
Find the Jaeger's Family Basement in Anvil Square – Unlocks Basement Key Backbling
Hit 7 opponents with ODM Gear attacks or a Thunder Spear – Unlocks Determined Eren Sticker
Hit the nape of 4 different Titan Targets with ODM Gear attacks – Unlocks Titan Strike Pickaxe
Search 3 Scout Regiment Footlockers – Unlocks Eren's Faceoff Spray
Swing from 3 different trees in a row using ODM Gear -Unlocks A World Without Walls Screensaver
You will need to complete all eight quests in order to get the Eren Jaeger outfit. You have until June 2 to do so.
There are two more outfits from Attack on Titan: Captain Levi and Mikasa Ackermann. However, both of these skins are available through the shop for 1,500 V-bucks each. If you miss the skins during their current rotation, they'll come back at a future time, so don't stress too much about missing them.
Players who want to collect the Attack on Titan skins can try to complete these quests quickly and equip the skins with your character. And you can also Buy Fortnite V-BUCKS to unlock other good skins for characters in the game shop.