Fortnite Birthday Quest Guide: How to Get and Use Balloons in Fortnite
Date: 2023-09-21 08:38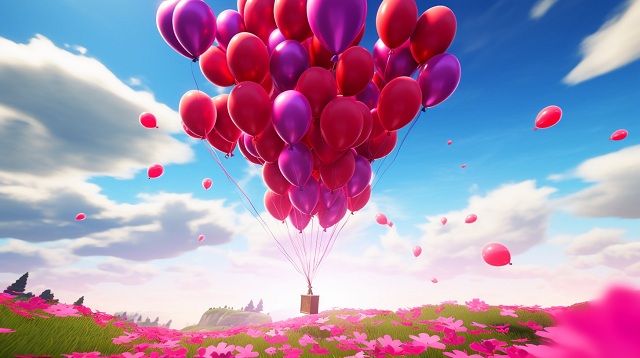 The new Chapter 4 Season 4's Birthday quests is coming in Fortnite. Players can complete various kinds of quests and level up their Battle Pass quickly in the game. One of Birthday's quests requires players to use 6 Balloons in Fortnite. Do you want to know how to get and use Balloons in Fortnite? Players can use Cheap Fortnite V-BUCKS to equip good skins with your characters in Fortnite.
What are Balloons in Fortnite Chapter 4 Season 4?
The Balloons were a Rare item in Battle Royale. Balloons will cancel the damage inflicted from falling. They also make the player to fall slower and jump higher. The maximum amount of balloons a player can have inflated at once is three. With the maximum amount of balloons inflated, the player will start floating upwards. Balloons can be released by pressing Ctrl. They will pop if the player floats too high or if they are shot.
Where to Find Balloons in Fortnite
A large part of the celebrations is the Birthday quests that will reward players with 20,000 XP after finishing each one. The sixth quest is titled "Use Balloons." In order to complete the mission, players will have to find and use the Balloons during their matches.
For players who may be unaware, the Balloon item in Fortnite that players can deploy in order to create a low-gravity effect --enabling them to jump much higher while slowly floating down. This effect can be increased by adding up to three balloons at a time, and can be attached or released at any point during gameplay.
However, while Balloons offer enhanced mobility, particularly vertical mobility, the item is susceptible to gunfire, leaving players vulnerable while airborne. At the time of writing, players can find Balloons anywhere on the island, including chests, Supply Drops, and Floor Loot.
Balloons can be found from ground loot as well as in chests easily around the Battle Royale map, where they look just like a small packet of balloons. Moreover, you can activate the Jump Balloon Reality Augment to gain Balloons every time you jump, until you reach the max number of Balloons.
How to Use Balloons in Fortnite
If you logged into Fortnite this week you may have noticed new Birthday challenges. One of them asks you to use Balloons in single matches, which is easy once you know how. First, select a Balloon in your inventory, and then hold the right trigger. You can attach three balloons at once.
You can attach multiple balloons to your character, by repeating the process outlined above. Balloons essentially increase your jump height and duration. The more Balloons, the higher the jump, and the longer you'll stay in the air.
To detach Balloons, you just need to press and hold down the right stick while in the air. This can be used to control your descent. To attach the five balloons you'll need in a single game to complete the challenge, just attach three, take two off, then add two back on. You'll then get your reward.
If you are willing to complete birthday quests in Fortnite, you can experiment the guidance and finish more quests. And you can also Buy Fortnite V-BUCKS to get the latest birthday's cosmetics for characters in the game shop.