Fortnite Chapter 3 Star Wars Activity: How to Get Star Wars Weapons
Date: 2022-07-06 08:45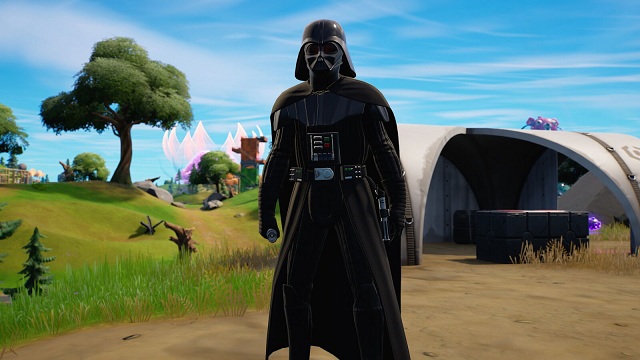 Wondering where to buy Star Wars weapons in Fortnite? Fortnite currently has two weapons from the Star Wars franchise: the E-11 Blaster Rifle and Darth Vader's lightsaber. Star Wars' futuristic energy weapons aren't entirely new to Fortnite, but there are some new additions to the Chapter 3 Season 3 arsenal. Let's see where to find all the Star Wars weapons in Fortnite. Players can purchase a cheap Fortnite accounts to help you experience the Mancake skin early in the game.
Fortnite Chapter 3 Season 3 How Players Can Get Star Wars Weapons
The Star Wars weapons players can find in Chapter 3 Season 3 are the E-11 Blaster and Darth Vader's mythical lightsaber. The former is easy to obtain, while the latter requires some work.
Here are all the confirmed stormtrooper outposts on the island and where Darth Vader's ship might land:
When you're about to land from the Battle bus, watch for the boat landing next to you. If you get closer to the ship when you land, you'll see a blue glow that accentuates its position.

You can find several blaster rifles and Lord Vader himself at this location. Although we recommend not fighting him without adequate supplies.

While Blaster Rifles has unlimited ammo, you can't underestimate his power. We recommend dealing with stormtroopers before fighting him.

With his lightsaber and strong connection to the Force, defeating Darth Vader can be a daunting challenge.

As we know how ruthless he is, he can knock huge objects down on you, jump into your position, or use force to get you close.

He's a fabulous boss and won't stop beating you. But once you defeat him, you can get his Sith Saber.

It can be an effective weapon because you can throw it away and get it back.
To get the mythical lightsaber, Fortnite players will have to destroy Darth Vader themselves. Compared to arguably the greatest movie villain fight of all time, taking down the stormtroopers and getting an E-11 blaster is a walk in the park.
How to Beat Darth Vader in Fortnite Chapter 3 Season 3
Ironically, the use of the E-11 Blasters Darth Vader's security forces was probably the best way to take him down. Players can drop to Vader's location, take one from the supply crate, and start fighting him.
Darth Vader is able to throw his lightsaber, reflect bullets shot at him, jump great distances, use the force to pull players closer to him in order to knock them down and throw objects at them.
Here are some tips to help eliminate the Dark Jedi and get his lightsaber:
Defeat the stormtroopers first and either take down their E-11 blaster or make Darth Vader the only enemy in the area.

Note Darth Vader's two health bars.

If in a squad, have two players focus on Vader at once to lower the first health bar, while the other two deal with the Chargers.

The E-11 is a great combat option because it has unlimited ammo.

Aim Darth Vader's head for maximum damage and keep your distance.

Go behind him and start shooting so he can't block the shot with his lightsaber.

Keep the barrage until his health is depleted and he is eliminated.
Once Darth Vader is defeated, he will drop his mythical lightsaber for a player to pick up. This weapon will allow Fortnite players to tactically dodge and deflect bullets, throw them as projectiles, or slice and dice opponents on their way to Victory Royale.
Fortnite Chapter 3 Season 3: Vibin' is heavily influenced by Star Wars. With that in mind, it's crucial that you know where to find all of the Star Wars weapons in Fortnite. If you need more cheap Fortnite V-BUCKS to experience the game better, welcome to z2u.com for consultation.