Fortnite Chapter 4 Season 1 Guide: How to Find Best Landing Spots in Fortnite
Date: 2022-12-12 09:02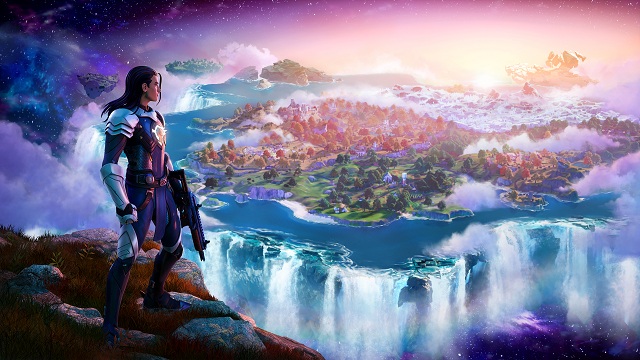 Players are well-welcomed about the release of Fortnite Chapter 4 Season 1. There are many new contents introduced into the game, such as new map, new skins, and new weapons. Due to the biggest change of the Fortnite island, player need to find the best landing spots if they want to survive in the end of Fortnite Victory Royale. Do you want to know the best landing spots in Fortnite Chapter 4 Season 1? You can read this article and know about them exactly. Players can get Cheap Fortnite V-BUCKS to purchase the latest items for characters in Fortnite Chapter 4 Season 1.
The Best Landing Spots in Fortnite Chapter 4 Season 1
Fridgerberg
Fridgerberg, an area to the northeast of Anvil Square. This spot is right on the edge of the ice and is perfect for players looking for a safer drop. There are a handful of houses here, each with consistent loot, and guaranteed chests. The great thing about this landing spot is that it's out of the way, and is usually uncontested, meaning you're likely to survive when landing here.
Fridgerberg is close to the center of the map, meaning you won't have to scramble to get back into zone after landing there. From there, you can rotate into Anvil Square, or towards Brutal Bastion depending on the storm, getting you closer to victory.
Brutal Bastion
Brutal Bastion is a fantastic location to drop to for those who want to survive as long as possible. The POI is set near the center of the barren, snowy region, so don't anticipate seeing too many opponents land next to you. Best of all, over 53 chests lie behind its steel walls, giving you a high chance of walking away with Epic-rarity or better weapons. Players who need an extra hand should also speak to Frozen Red Knight, as the character can be hired as a teammate.
Frenzy Fields
If you're looking for a location that will provide you with plenty of loot right from the start, then Frenzy Farm is perfect for you! Here you will find a lot of chests, ammo boxes and healing stuff. In addition, the place is big enough for your entire team. And if someone goes down, you can just head west to Meadow Mansion to reboot your mate if there are still enemies lurking in Frenzy.
Slappy Shores
Slappy Shores is located on the eastern edge of the map in Fortnite Chapter 4 Season 1. Its one of the best spots to land if you are playing solo. Players who love a fast start game can land here and loot up before heading towards action. The structures at this location are spread out, and two halves of the POI are connected by a bridge. Slappy Shores also has a Slap Juice factory, making it easier for players to find the new consumable item at this POI.
Faulty Splits
Tilted Towers is gone, but Faulty Splits carries on its legacy in Fortnite Chapter 4. Overrun with enemies every time you land here, this is the perfect spot for those who love close-quarters combat.
While it may not be quite as big as Tilted Towers, there is still plenty of loot to be found here, and its fairly central location gives plenty of rotation options depending on your circle.

The Citadel
If players want a boss battle in Fortnite Chapter 4 Season 1, the Citadel is the perfect landing spot. By fighting the Ageless Champion, they have a chance to obtain his Mythic Ex-caliber Rifle. Additionally, this landing spot is great for opening Oathbound Chests. When it comes to regular chests, there are 22 of them on the small island.
We have listed several best landing spots in this article, players can select them according to your playstyle in Fortnite. When you have chosen the landing spot in the match, you have to survive well in the process of battles. In addition, if you want to unlock good skins or items for characters, you can Buy Fortnite V-BUCKS to get the Battle Pass and complete relevant quests for good rewards.