Fortnite Star Wars Event Guide: How to Defeat Darth Vader in Fortnite
Date: 2023-05-16 08:54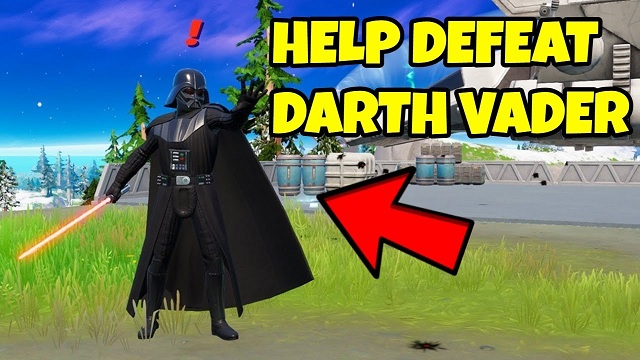 Fortnite Star Wars Event has come into its third phase with the release of the Fall of the Republic quest set. And Darth Vader also comes back on the Fortnite island. In order to complete one of the new Find the Force quests, players have to defeat Darth Vader on the island. Do you know where to find Darth Vader and how to defeat him in Fortnite? You can read this article for guidance. Players can use Cheap Fortnite V-BUCKS to unlock the latest skins or items for character in the Star Wars Event.
Where to Find Darth Vader in Fortnite 
Unlike last year when Darth Vader was spawning in various places on the map, this time around he can be luckily found in just one specific location. During the current event, Darth Vader spawns at the new Stormtrooper checkpoint located northwest of Brutal Bastion in a clone trooper camp which can be found south of the green patch in the middle of the winter biome. It is located right behind the Stone Tower mountain which is in the snow beside the road which leads to Beep 'N Bounce.
How to Defeat Darth Vader in Fortnite
Darth Vader can be a tough boss to take down in Fortnite. He's surrounded by Stormtroopers, and they won't miss their shots as much as one would think. On top of this, it's very likely that enemy players will also land by Darth Vader's spawning location.
Darth Vader uses his Lightsaber to deflect incoming fire, but if the player has an Assault Rifle or an SMG with a large magazine size, he will eventually stop blocking and take damage. This information is key to dealing damage to this boss.
In order to beat Darth Vader, you must keep a safe distance from the boss as he deals substantial damage to the players nearby. It's a tricky task to beat him in a solo fight as he has around 600-700 HP. For this reason, we recommend dealing with him in Trios or Squads game modes. If you decide to go at it solo, keep in mind that even if you just shoot him once, if you manage to stay alive, you'll still gain credit for the kill even if you weren't the one to get the final shot.
For helping to defeat Darth Vader in Fortnite, you will earn 200 Galactic Reputation, which will unlock items in the Find the Force Battle Pass section.
In addition, Darth Vader will drop his Lightsaber once defeated. This is a unique weapon that can be thrown by holding aim and then pressing shoot. It has a very short cooldown, and can do some real damage. Other than this ability, Darth Vader's Lightsaber behaves like the others.
With Darth Vader falling in battle, there are still plenty of other things for you to get on with. You may wish to find all of the Fortnite malfunctioning mending machines or mending machines to complete challenges, or defeat the Herald boss to get her unique weapon.
In order to defeat Darth Vader quickly, you can cooperate with your squad teammates in the match. Players can also Buy Fortnite V-BUCKS to unlock the latest Battle Pass for good rewards in the game.