NBA 2K22 Season 7 Return of Heroes: Release Date, New MyCareer & MyTeam, New Mode
Date: 2022-05-23 08:39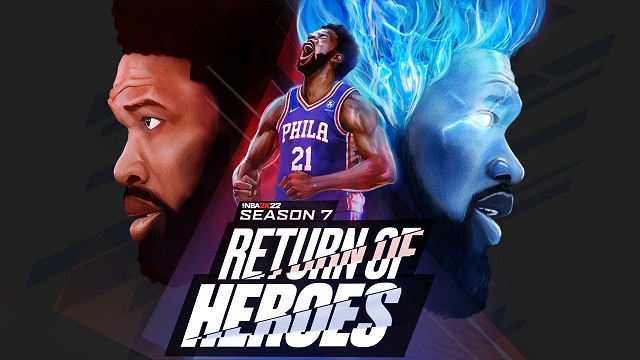 With the end of NBA 2K22 Season 6, there will be new season in NBA 2K22. Everyone who likes playing NBA 2K22 looks forward to hear about the news of Season 7. They are interested in everything in the new Season 7 in NBA 2K22. You can read this article and know something you want to know. If players are willing to obtain latest powerful player cards in the game, you can Buy NBA 2K22 MyTeam MT to purchase player packs to open for your desired players. 
NBA 2K22 Season 7 Release Time
NBA 2K22 Season 7: Return of Heroes is coming to the game Friday, May 20, just in time for the NBA Conference Finals, and the update will feature big additions for MyCareer, MyTeam, and The W. The event is a follow-up to the popular NBA 2K21 Age of Heroes from last year, bringing with it more content to keep fans playing.
NBA 2K22 Season 7 MyCareer Rewards
There are also plenty of rewards for players to claim in NBA 2K22 Season 7. Just like before, some rewards will be different depending on the platform you are playing on. Here are level 30 and level 40 rewards:
New-Gen Players:
Season Level 40 – Jetpack
Season Level 30 – NBA Mascot outfit
Last-Gen Players (PS4, XB1, NSW, PC):
Season Level 40 – NBA Mascot outfit.
Season Level 30 – Affiliation Mascot outfit.
NBA 2K22 Season 7 New Mode
New Game Mode Content: TKO (Next Gen Exclusive)
TKO is a MyCAREER game mode in NBA 2K22 that brings back the classic feel of team-on-team competition from the Park days. In this game mode, teams face off with much more on the line than your typical park or rec lobby.
As for the competition between MyPlayers, TKO is back. In TKO, players can rise a floor for each win in a three-on-three game, where a higher floor means tougher opponents. Lose a game, and you get knocked down to the previous floor. Lose three games in a row, and your squad is eliminated from the competition. Event rewards for TKO are quite valuable, including Skill Boosts and up to 10,000 VC. For cosmetics, players can look forward to earning Boxing Shorts and Boxing Gloves to equip their MyPlayer with.
In TKO, winning teams rise up to the next floor where they'll face other tougher competition, and as teams advance, rewards and bonus XP gets even better. Teams with winning streaks earn tons of bonus rewards, but teams that get relegated down three tiers will be eliminated entirely.
NBA 2K22 MyTeam Mode
MyTeam includes Playoff Agendas, recreated moments based on big playoff performances, a LVL 40 Invincible Anthony Edwards; and hand-drawn hero cards featuring current players and Legends. Additionally, Murals are back, with Hero Galaxy Opal Zion Williamson as the Level 1 reward and Invincible Joel Embiid as the Challenger Mural's collection complete reward. Lastly, a new Season Rewind Domination tier will be added to MyTEAM. Players can compete against the MyTEAM-best versions of the current NBA rosters for MyTEAM Points, Tokens, Hall of Fame badges, and an Invincible Tim Hardaway for earning all 99 Stars.
NBA 2K22 Season 7 is attractive for players who have completed challenges in the former versions of NBA 2K22. If you want to level up characters quickly, you can Buy NBA 2K22 MT to get more XP for characters through the shop in the game. You will be rewarded with more items in turn.