WoW Classic will add Warsong Gulch and Alterac Valley Battlegrounds
Date: 2019-11-25 08:46
Blizzard has announced that the two Battlegrounds of the WoW Classic's Warsong Gulch and Alterac Valley will be opened in the week of December 10, which Warsong Gulch and Alterac Valley will be online on all servers. And the Blackwing Lair and the Darkmoon Faire will be launched early next year. Below is the originally posted by Blizzard:
"Warsong Gulch and Alterac Valley will open in WoW Classic simultaneously on all realms the week of December 10", Blizzard writes. "At the same time, Elemental Invasions will occur in Kalimdor, with Blazing, Thundering, Watery, and Whirling Invaders appearing in Un'goro Crater, Azshara, Winterspring, and Silithus respectively."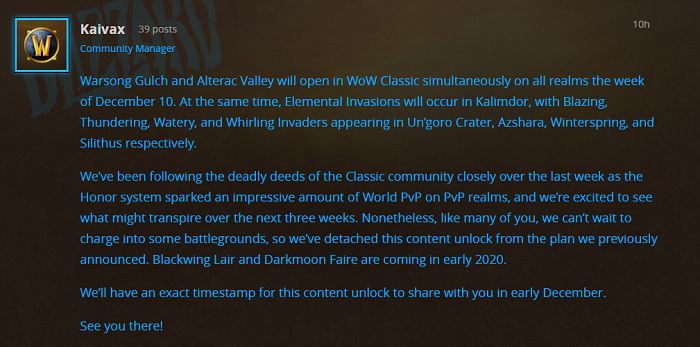 For those who don't know, Battlegrounds are essentially competitive multiplayer maps within the World of Warcraft universe. They allow people to queue into competitive matches that see Horde and Alliance teams compete to complete various objectives. Otherwise, the only way that players can boost their PvP rank is by participating in world PvP across the game's sizeable map. While Blizzard doesn't outright say so, it really feels like the problems with world PvP in WoW Classic are why they decided to release Battlegrounds ahead of schedule.
It offers an outlet for more competitive inter-faction play that was traditionally available in PvP and PvE servers. These areas were distinguished by having red instance portals, making it hard to stumble through them by accident. "In a battleground, player versus player combat is always enabled, regardless of server type," a message from Blizzard explains. "This gives players on the PvE server who want a taste of PvP gameplay the ability to do so on more manageable terms. "While in a battlegrounds area, you can team up with friendly players while you embark on quests designed to pit you against players of the opposing faction. " You can easily leave a battlegrounds area and return to the normal world by speaking to another friendly battleground NPC."
Blizzard has announced that after the honor system was launched last week, we have been paying close attention to the amazing number of World PvPs that have occurred on WOW Classic's PVP server. We are very pleased with what may happen in the next three weeks. But despite all this, like many of you, we can't wait to get into the battlefield. Therefore, we will separate this part of the plan announced earlier and unlock it separately. Phase 2 update made almost impossible to level a character beyond level 50 since there's a lot of ganking in the end-game zones. The early addition of Warsong Gulch and Alterac Valley battlegrounds might tempt those honor-hungry players to farm their points in a more streamlined fashion. This will enable the rest of the community to finish their leveling journey without being killed by a max level character every few minutes.
Why should Blizzard open the Battlegrounds of the Warsong Gulch and Alterac Valley in advance? There are two main reasons for this. Some of them are eager to get involved in the battlegrounds and find the atmosphere in the WOW Classic of the 1960s. Secondly, pvp honor system was launched, many players complained that they were often killed by mistakes during the field leveling, the game experience was very poor. Based on the above reasons, Blizzard decided to open the battlegrounds in advance according to the player's request. Furthermore, to get more gaming experience, you also can equip yourself some cheap WOW Classic Gold at Z2U.com.