WoW Classic Honor System and PvP Rewards
Date: 2019-11-19 08:32
The updated content of WOW Classic phase 2 has been officially launched. This update is mainly focused on PVP. These WOW Classic updates open the honor system. As long as you participate in PVP, you can get honor. Honor is divided into multiple levels and can be exchanged for rewards.
When you participate in PVP content, whether in the wild or in the battlefield, as long as the killing level is less than 10, the enemy camp players can get honor kill, and when you team with other players, your teammates are nearby. You can also get the honor kill bonus for players who have killed the opposing camp. The honor level is divided into 14 levels. Each level will be calculated by comparing the honor points of other players on your server every week. The calculation method is as follows: current honor level = last week honor score *80% + ranking Bonus points. At the same time, there are the following restrictions: the weekly honor score is reduced by up to 2,500. If you get less than 25 honor kills last week, it will be defined as "inactive players" and the calculation formula will become the current honor. Rank = last week's honor score *90%.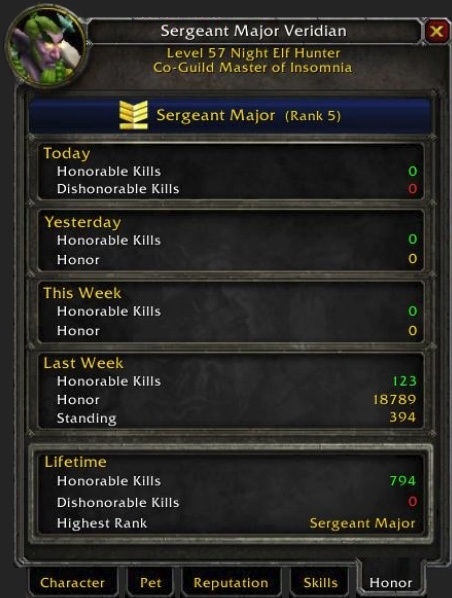 Each level of honor will receive different rewards, each level will give your character a rank, as well as other items and equipment. According to experience, the guaranteed ranking is in the top 10, and the fastest from R1 to R6 can be upgraded to level 3 in one week, while R6 to R13 need to rank in the top 5 at most, about 1 level per week, and R14 in the last R13, which needs to be ranked first. In the case of one to 2-3 weeks, it means that it takes 7-8 weeks to reach. The entire PVP system has 2 different suits for each class, and once it reaches a certain level, it can be purchased through PVP merchants. Each set includes 6 different parts, and when you wear 2, 4, and 6 pieces of equipment, you can get the corresponding set attribute reward. In general, 2 and 6 sets of attribute bonuses are used to improve the player's own attributes, such as endurance, attack, strong, etc. The 4-piece suit attribute is to improve certain skills of your profession.
Since these sets are built around PvP battles, their properties are more common than other dedicated sets such as the group package, but the various properties of the PVP set are more suitable for mixed careers, especially in the group set cannot get multiple talents. When it comes to suits, it's also a good choice for these mixed careers, such as the Paladin and Druid's DPS talent.