Fortnite May 2022: Crew Membership, Southpaw Skin And How to Get Crew Pack
Date: 2022-05-05 08:35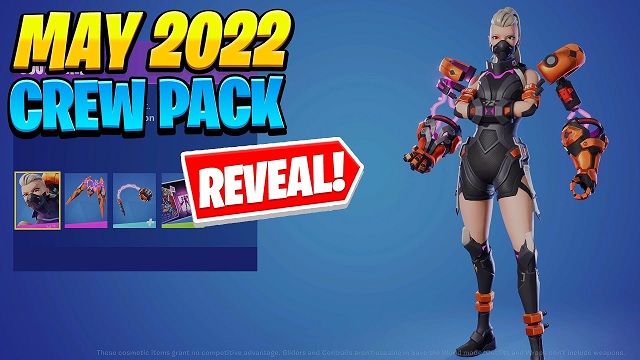 With the coming of May, there will be a lot of activities for players in Fortnite. The developer also brings various new items for players in the game. For instance, beautiful skins, new weapons, and  new packs. There is a special item that offers players a lot of good rewards in the game. It is the Crew Membership. While, players want to know how to get the Crew Membership and Crew Pack eagerly, this article will tell you the guidance in detail. If players want to decorate their characters with different kinds of skins, you can buy Fortnite Accounts to choose one of the most attractive skins for your character.
How to Get the Crew Membership and Crew Pack
The Crew Membership in Fortnite is a monthly subscription that offers a variety of rewards each month, including new skins and V-Bucks. The May Crew Membership starts on April 30, 2022, at 8:00 pm ET. Crew Memberships can be started or canceled at any time. Some rewards are received when the new month starts, but others can be collected monthly on the first day of the billing cycle. If the subscription isn't canceled, then players will be charged on the same day every month and receive their rewards accordingly.
As with all other Crew Pack drops, we already know what sort of items to expect. You'll get an exclusive skin only available through the Crew Pack, on top of a new accessory, the current season pass, and 1,000 V-Bucks.
However, we now know the specifics of this exclusive new skin. It's called Southpaw, a boxer rocking padded armour to give her a slightly futuristic design. On top of the skin, you'll get the Counterpunch Back Bling and Arc Flail Pickaxe. The last gift is a loading screen depicting Southpaw in action. All those items are soon to be here for subscribers!
Southpaw Skin in May Crew Pack 
For April, the Crew Pack contained a Sayara Outfit, Fans of Sayara Back Bling, Dual Machettas Pickaxe, and a Sayara Sight Wrap. These exclusive items may never return to the game, giving Crew Pack members a nice exclusive to play with for the rest of the game's life.
For May, Southpaw is a boxer-themed skin, but not in the traditional sense. Her human arms are bound together via some sort of Chinese finger-trap looking device, but she's adorned with two massive robot arms on her shoulders that do her fighting for her. 
As with all the other Crew Packs in Fortnite, you'll need to have an active subscription to the Fortnite Crew to get the latest drop.
You'll find the sign up page on the Item Shop, where you'll then need to spend real money on the subscription. A month costs £9.99/$9.99, so you'll have to weigh up each month whether you wish to renew or not.
However, remember that there's no other way to get the Crew Pack skin, other than through this subscription. The outfit in question won't ever come to the Item Shop, so if you see it and end up liking how it looks, there's only one way to make it yours.
Players who want to be attractive in Fortnite can choose to subscribe Crew Membership in the game, it will reward you with a lot of good things in turn. And if you are looking for some unique skins in the former versions, it is the best choice to Buy Fortnite Accounts with Rare Skins instead, and you can experience rare skins in the match.