Fortnite No Sweat Summer Event Guide: Release Date, Quests, and Rewards
Date: 2022-07-20 08:36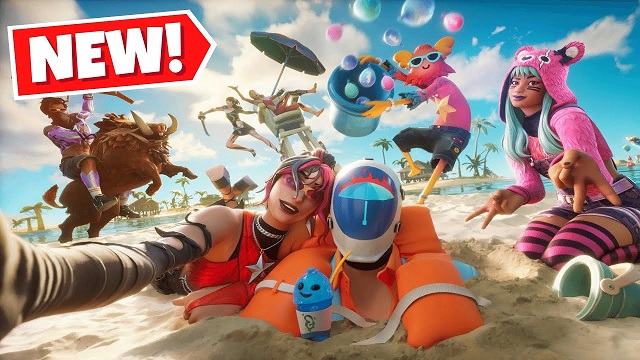 Players have joined in Fortnite Chapter 3 Season 3 for a month, and Epic Games plans to hold a summer event called No Sweat. Fortnite No Sweat Summer Event may be a good chance for players to obtain good rewards includes bucks or skins. If you are interested in this event, you can read this article to know more information. Players can get Fortnite V-BUCKS to buy their desired skins or weapons for your characters in Fortnite. 
Fortnite Summer Event 2022 Release Date
Although it hasn't confirmed by Epic Games yet, there are some leaks that No Sweat Summer Event in Fortnite is coming on July 19 or July 21. Players can choose to join in the No Sweat Summer Event to have a break from sweaty rounds. Just like Epic Games says: "The weather is heating up for many of us, and it's that time of year again to get outdoors and bask in the sun! Fishing, camping, picnics, trips to the beach, or relaxing poolside-summer is here! No-Sweat Summer means to chill, relaxed fun summer vibes-think water parks, fishing contests, camping, and adventures, not high-intensity combat."
Fortnite All No Sweat Summer Event Challenges 
We have known the list of the whole No Sweat Summer Challenges in Fortnite. 
Here They Are:
Land after jumping from the Battle Bus during the No Sweat Summer event
Carry the No Sweat sign and place it at a sponsorship location
Complete a lap around the boat race circuit after the starting countdown
Make a Character dance to a Boogie Bomb
Emote at different promotional dance floor locations
Ring doorbells until they break
Catch 3 seconds of air while driving a Motorboat
Remove No Sweat signs from recalled products
Place the No Sweat signs in an official bin
Pop No Sweat Summer inflatable objects
Jump on umbrellas along the beach
Kick a beach ball and kick a giant beach ball
Fire off the Firework Flare Gun at Mighty Monument or Tilted Towers
Bust through doors in different neighborhoods
Destroy large sea buoys with Motorboat Missiles
Damage opponents while swimming
Visit different named locations
Some challenges are easy to complete in Fortnite, you can just read the name of the challenges and go to the exact places to finish them. 
Fortnite No Sweat Summer Event Rewards
There aren't so many rewards that players will be able to unlock during the No Sweat Fortnite Summer 2022 event in comparison to last year. However, there are still six cosmetics rewards.
The Ice-Blasted Snow Crunchem, Sweaty Sailer Glider, and the Sweaty Rotation emote will be available to unlock. The first reward can be unlocked when three challenges are completed, the glider can be unlocked after seven completed challenges, and the emote can be unlocked after 14 quests have been completed.
Fortnite Summer Event New Features
With the new skate park landmarks mentions in leak, one could speculate that skating will be added as a new locomotion option in Fortnite this summer.
Furthermore, according to the leak, the NPC's Boardwalk Ruby, Summer Drift and the banana Unpeely will be found on the map during the event.
Players can wait for the official release of Fortnite No Sweat Summer Event and prepare for the challenges in advance. You can also Buy Fortnite Accounts to experience the latest version of Fortnite with your friends. It is a really wonderful gameplay experience.