Fortnite Chapter 3 Season 3 Guide: Vibin Trailer, New Battle Pass Skins, New Weapons
Date: 2022-06-07 08:25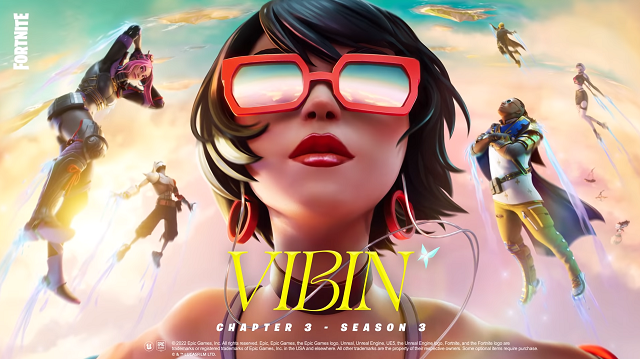 Many fans of Fortnite are excited about the update of Fortnite Chapter 3 Season 3, which means that they will have a lot of new things to do in the new season. And there are a lot of changes in the latest season. This article will tell you about the new changes of Fortnite Chapter 3 Season 3. Players can experience high level matches via FN Accounts in order to improve your competence in Fortnite.
What does the Vibin Trailer show in Fortnite Season 3?
Vibin Trailer shows that Vibin follows Chapter 3 Season 2's "Collision" event and has made Fortnite's Island "one giant party." This party also comes with some map changes, led by a new location called Reality Falls.
It shows off a new location known as Reality Falls after the Reality Tree has blossomed on the Island. It shows players now being able to play in this resort-like area, complete with roller coasters and summer vibes like beaches. 
New Area For Players To Explore
There is a new area for players to explore on the island of Fortnite. This new area is home to the Reality Tree and is filled with bouncy mushrooms, purple trees, waterfalls, caves filled with loot, and much more. The Reality Tree is also sending out Reality Seed Pods, and when players plant the seeds from those pods, a Reality Sapling will grow. This sapling will grow in the same place from match to match and will bear better and better loot each time you weed it until it provides Mythic loot.
The island is changing beneath our feet once again, and this time, it's changing over our heads too. In Fortnite Season 3, loopers are celebrating their victory over the Imagined Order, so a season of good vibes is upon us. That means stylish Ballers are back as the fan-favorite hampster wheel-like vehicles. Even better, you can ride a Baller right onto the Screwballer, a working roller coaster that loops, twists, and turns all around the island.
New Battle Pass Skins in Season 3
The Fortnite Chapter 3 Season 3 Battle Pass allows you to add Darth Vader, Malik, Evie and Sabina to your collection.
Following the new tradition started in the past two seasons, these skins are divided across a selection of Battle Pass pages and unlocked by either claiming a certain number of rewards or reaching a specific Battle Pass level. Upon unlocking a page, the skin or variant is collected by earning Battle Stars from increasing your Battle Pass level and using them to unlock all of the other rewards on the page first.
For Stormfarer, for example, you need to either reach Level 40 or unlock 26 rewards from the Battle Pass to unlock her page. Next, you need to earn all of the rewards on Page 5 to unlock the ability to earn Stormfarer.
New Weapons in Season 3
Players are happy to know that there are many new good weapons are introduced in the new Season 3. And there are some popular former weapons returning in this season. The Designated Marksman Rifle (DMR), Hammer Assault Rifle, and Two-Shot Shotgun are some of the new weapons headed to Fortnite this season, and some favorites - including the Sidearm Pistol, Revolver, Stinger SMG, Heavy Sniper Rifle, Firefly Jar, Harpoon Gun, Cow Catcher, Repair Tool, and more - are returning.
If you want to equip more skins for your character in Fortnite Season 3, it is a good idea to buy Battle Pass in advance. You can even Buy Fortnite Accounts to experience some former skins that are not common but unique in the game.