Fortnite Dragon Ball Event: How to Get Fortnite Dragon Ball Skins or Rewards
Date: 2022-08-18 08:42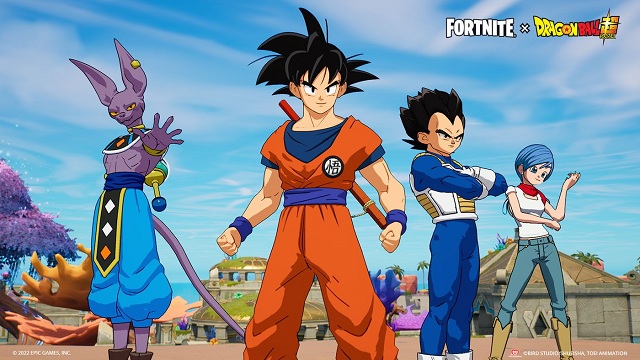 Many players have heard from the news that Fortnite will cooperate with the Dragon Ball and introduce new Dragon Ball-themed cosmetics in the game. Now, the Fortnite Dragon Ball crossover is officially released by the developer. Players who love watching Dragon Ball are eager to get all the relevant skins and complete challenges for rewards. If you are interested in the Dragon Ball event, you can read this article and learn from the guidance. You need Cheap Fortnite V-BUCKS to get all the Dragon Ball Characters' skins in the shop and make your character attractive in the game. 
What are Dragon Ball Events in Fortnite?
Multiple in-game events will also be featured during the crossover event, including the Dragon Ball Power Unleashed Quests that offer special rewards, extra battle pass levels, and a Shenron glider to those who complete quests and collect the Dragon Balls.
Dragon Balls can be found on multiple Fortnite Creative maps featuring prominent locations from the Dragon Ball universe. The creative maps include Kami's Palace, Goku's House, and the Room of Spirit and Time, among others. Also available will be a special cruise ship creative map that will play episodes of Dragon Ball Super in their entirety for players to watch together.
A new "Power Unleashed!" tab has been added to the game, with quests and rewards available to all players until Aug. 30. Completing quests raises players' power level and awards them Dragon Balls, as well as rewards like back bling, emotes, sprays, and battle pass levels. Completing all quests awards the Shenron Glider, based on the wish dragon of Dragon Ball lore.
Fortnite Seven Dragon Ball Quests
The Fortnite Dragon Ball quests offer all sorts of new challenges for players. From August 16 to August 30, the Power Unleashed quests will be up for grabs. The quests reward you with Power Level, which is what you're going to need to unlock most of the rewards during the event. In turn, if you're only interested in the Shenron Glider, you're going to need to complete a certain number of quests from each one of the batches to get one Dragon Ball from each.
The quests are divided into different categories, which are rolling out gradually during the next few days. You can find them below:
Warmup Quests
Sparring Practice Quests
Strength Training Quests
Agility Training Quests
Endurance Training Quests
Focus Training Quests
Recovery Quests
Again, completing the required amount (usually three quests) from each category is going to reward you with one Dragon Ball. Get all seven, and the Shenron Glider will be yours.
How to Get Fortnite Dragon Ball Skins
You can get your hands on four different Dragon Ball outfits by purchasing them from the Fortnite Item Shop. The characters Son Goku, Vegeta, Bulma, and Beerus are up for grabs in the game.
Here are all the prices for each individual outfit:
Goku: 2,000 V-Bucks
Vegeta: 1,800 V-Bucks
Beerus: 1,500 V-Bucks
Bulma: 1,200 V-Bucks
Instead of buying each outfit individually, you can get them as part of two different cosmetic bundles. The Goku and Beerus bundle for 2,700 V-Bucks while the Bulma and Vegeta bundle cost 2,300 V-Bucks. For 1,800 V-Bucks, you can also get the Gear bundle featuring the Nimbus Cloud (Kintoun) glider, Space Pod glider, Kamesennin's Staff pickaxe, and other items.
Players can try to complete Dragon Ball quests to earn good rewards and improve their levels of Battle Pass in Fortnite Chapter 3 Season 3. If you want to get these characters' skins in the shop, you can Buy Fortnite V-BUCKS to unlock your desired skins for your characters and show them off in the real matches.